What is Inbound Marketing? The Definitive Guide for 2021
by Keith Gutierrez on Jun 01, 2021
I think you'll agree that as consumers, we are tired of mass marketing and "push" advertising via direct mail, e-mail, TV, and radio. Instead, we want to build relationships with the companies that we buy from.

We investigate to make our own buying decisions. Using "Google" for information, and seeking recommendations from peers and asking questions online.

But, that's not all...

We do this at our leisure without needing to speak to a salesperson.
According to the CEB Marketing Leadership Council, consumers progress 60% of the way through the buying process before they engage a sales rep.
Which means...
Inbound marketing is the best way to grow your business in 2021 and beyond. In this guide, you'll learn everything you need to know about how to fuel growth with inbound marketing and sales.
The Ultimate List of the Web's Best Resources for Inbound Marketing in 2021
From visitors to promoters, this guide has you covered.

Chapter 1
Inbound Marketing Fundamentals
What is Inbound Marketing?
Inbound marketing is a digital marketing approach focused on attracting a targeted audience and helping them through the buying process using websites, search engines, blogs, and social media.

What makes Inbound Marketing different?
Before Inbound marketing, businesses used traditional marketing, and advertising approaches as far and wide as possible. In turn, interrupting people, hoping they would find interest in what was being offered.
Inbound marketing helps businesses get found by potential customers, using content and interactions that are relevant and helpful, based on their needs and interests. Meaning they are not interrupting.
Inbound marketing helps your business get found using:
Your website
Blogs
Search engines
Social media
The focus is on creating content to address the problems and needs of your ideal customers. That way you can attract qualified prospects to your website. On top of that, it builds trust and credibility for your business.
The Inbound Marketing Methodology


Along the top are four phases:
Attract
Convert
Close
Delight
The middle considers the relationship a prospect has with your brand.
Considering:
Before they are aware of you
During the time that they learn about you
After they become a customer
Transforming strangers into visitors, leads, customers, and promoters of your business.

Along the bottom are the stages of the buying journey.
Awareness
Consideration
Decision
Representing buyer behavior and information need related to the buying journey.
Simply put...

Inbound marketing transforms marketing to match the way people buy.

Developing an inbound marketing strategy for your business requires a complete understanding of how your buyers make their purchasing decisions. This information is derived through buyer research, which reveals your buyer personas.
The next step is to develop helpful and engaging content that speaks to your buyers, exactly where they are in the buying journey.
One of the advantages that come from inbound marketing is the value that comes from the content that is created. Because, the content becomes a valuable asset to your brand which generates targeted traffic, qualified leads, and new customers year after year.

Inbound marketing is not a campaign that runs once and is done. It's an ongoing reiterative process. It takes commitment, strategy, and talent to "move the needle."

This means it's a long-term growth strategy. It will deliver continuous, compounding results over time.

And it doesn't stop there. The inbound methodology continues to help businesses adapt to fast-changing needs. Not just with marketing, but with the entire customer experience.
---
Inbound Marketing Resources

Chapter 2
How to Build Buyer Personas the Right Way
The power of buying and selling has shifted from the seller to the buyer. The Inbound Methodology transforms marketing and sales to match the way people buy.
In order to do Inbound effectively, you must have an understanding of how your buyers make purchasing decisions. Identifying the steps involved in evaluating your products and services.
Without this information, you'll be doing random acts of marketing, guessing every step of the way.
The problem is that most marketing and sales professionals think they know their buyers extremely well, but in reality, they have a limited understanding of how their buyers actually make a purchasing decision when considering their products, services, or solutions.
Look at the following statements...most marketing and sales professionals can only answer "Yes" to 2 or 3 of these statements in complete confidence.
I know my buyer's favorable and unfavorable perceptions about purchasing my product.

I understand what triggers my buyers to search for a solution to their business problems.

I can name the top three factors my buyer uses to select a solution.

I know who in the buyer's organization is most critical to each step in the buying decision.

I can list the top three resources my buyer uses in each stage of the buying process.

I know the barriers that prevent my buyers from choosing my solution.
If you really know your buyers, you'll be able to answer yes to each of the statements above in complete confidence...meaning you can provide data "proof" to back it up.
Gaining this insight requires conducting buyer research interviews. Gathering the data necessary to develop your "buyer persona." Using their words reveals the attitudes, concerns, and decision criteria you need to address to win their business.
A buyer persona reveals:
The conditions that trigger the buyer's decision to look for a solution

The results or outcomes that the buyer expects from the solution

The attitudes or concerns that prevent the buyer from purchasing the solution

The buyer's role in the decision and who else will impact the decision

The features that the buyer evaluates while comparing alternatives
We use these buyer insights to guide our strategic decisions through each stage of the buying process. Taking the guesswork out of marketing and sales.

Creating buyer personas for your business is a smart move that takes commitment and research.
The work you'll do to identify one or multiple personas may be the difference between strong growth or the same old status quo for your business.
You'll learn how to create buyer personas the right way (data & research-driven) and how they can increase your website's targeted traffic.
---
Buyer Persona Resources

Chapter 3
How to Design an Inbound Marketing Website
If you've ever tried to design a website in the past, then you know what it's like to spend 4+ months trying to develop the perfect website.
The problem with the traditional approach to web design is that it requires a significant time investment, large up-front costs and there's a high probability that the project will run late and be over-budget.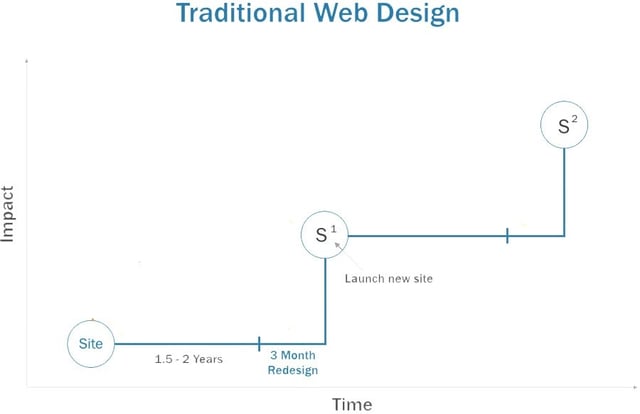 But the real problem is that it's not designed to drive traffic, leads, and sales for your business. This is why the traditional web design process is broken. This process stems from more of the same marketing and sales guesswork that most companies struggle with on a daily basis.
The good news is, there's a smarter approach to web design. We call this process Growth Driven Design (GDD). GDD focuses on using real data to lead the design process and to drive continuous improvement throughout time.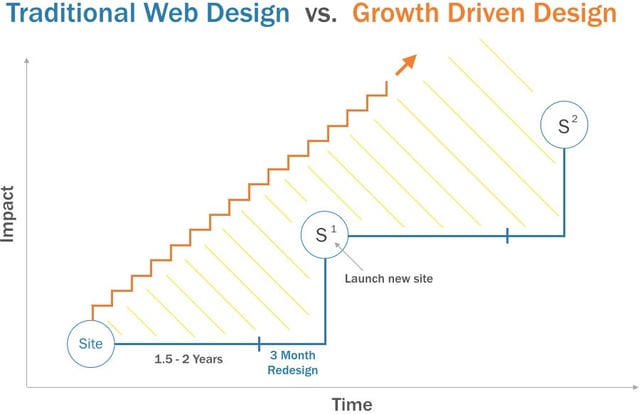 GDD is a continuous iterative process that produces reliable growth month-over-month. Your website becomes stronger as you continue to measure, iterate and act.
Taking this approach eliminates the headaches of traditional web design by reducing your initial upfront investment of time, money, and resources.
GDD lowers overall risk in the website development process by enabling you to produce reliable month-over-month growth. Through this process, your website becomes stronger as you continue to measure, iterate, and act.
The improvement of your website never ends. The GDD Methodology is designed to adapt and change to match the way your target buyers make their purchasing decisions.
The result is a website that is continuously evolving and is built in stages according to the scientific method. This is done by making fundamental assumptions through the analysis of available data, which is then used to develop a hypothesis that is either invalidated or validated based on resulting user data.
This user data is used not only to continuously improve your website but it's also used to inform marketing and sales.
An inbound marketing website is focused on conversion.
With these additional resources, you'll learn the characteristics, elements, and best practices of designing pages for an engaging conversion-focused website.
---
Website Design Resources

Chapter 4
Create Amazing Content to Drive Engagement and Following
Content creation is a key differentiator between an inbound marketing designed website and, a traditionally designed website.
Inbound marketing can help with many goals, including:
Increasing website traffic
Building brand awareness
Lead generation and sales qualification
Creating a brand identity and positive brand association
Improving communication and interaction with key audiences (visitors, prospects, and customers)
The more engaged your audience is, the easier it will be for you to achieve every other marketing goal on your list!
With that in mind...
Inbound marketing is all about content. It allows you to attract visitors to your site. It uses various forms of content, like:
Educational Articles
Images & Photos
Infographics
Videos
Podcasts
Presentations
eBooks & Reports
Inbound marketing is also all about context. Publishing the right content in the right place, at the right time. Then your marketing becomes relevant and helpful to your customers… not interruptive.

Furthermore, Inbound marketing is multi-channel marketing.
It accounts for where people are, and how they want to interact with you.

These channels include:
Keyword search
Blogs
Calls-to-action on your website and landing pages
Emails
Marketing automation
Social media
But that's not all...
These channels combine to match the Buyer's Journey:

Source: HubSpot


The basic concept is using blogging, SEO, and social media to get traffic to your site. Then use calls-to-action, landing pages, and forms to turn those visitors into leads.

Those leads then become customers with the aid of automated nurturing emails and lead intelligence. To wrap it all up, you analyze the data to replicate what works and improve what didn't.
---
Content Marketing Resources

Chapter 5
Increase Visibility With Proper Search Engine Optimization
Search engines and social media have changed the way people make purchasing decisions. In fact, a recent report by Search Metrics showed that 92% of B2B purchases start with search. (Source)

People search for information and have conversations online. They educate themselves on the options that are available to them. Including how to overcome their challenges, costs, reviews, testimonials, and cases. All done at their leisure without needing to speak to a salesperson.

Consumers progress 60% of the way through the buying process before ever engaging a sales rep. (Source)


As you can see, the search continues to be one of the first contact points on the Buyer Journey.

"How do I know what my prospects are searching for and how does my website show up in search," you may be asking?

Answering this question requires an understanding of your buyer's priority initiative. What triggers them to start to look for a solution like yours?

Attracting your target audience requires creating relevant content that interests your buyers. In fact, many of them are searching for answers and information about these topics right now.

After you've identified the right topic, the next step is to plan and develop content that matches your buyer's interests and needs. This content could take shape in the form of:

Site Pages

Blog Articles

In-Depth Guides

Infographics

Videos
SEO requires both technical and design elements to improve rankings in search engines.

SEO isn't only about building search engine friendly websites. It's about making your site better for people too.

"Google" sorts through the hundreds of billions of web pages in its Search Index in a fraction of a second. Giving search users useful and relevant search results.

Many factors make up the Google Search algorithm. It's in a constant state of flux, with regular updates. Preventing people from using "black hat" tactics to game the search results.
It's Google's goal to provide its search users with the most relevant and useful information on the web.

With that in mind, you must understand the intent of what your audience is "searching" for. Then, it's your job to create content that addresses the audience's intent in the best way possible.

Look:

There are a ton of factors to consider when optimizing your web pages for search engines. A few that you can control (on-page SEO), and the majority that you cannot (off-page SEO).
An important aspect of SEO is making your website easy for both users and search engine robots to understand.
Without a website that is well optimized for search, you may find yourself struggling to drive traffic to your website.
The following resources will teach you the difference between on-site and off-site SEO, beginner and advanced SEO tactics, plus how to build backlinks, which is arguably the most important part of SEO.
---
SEO Resources

Chapter 6
How to Increase Lead Generation Through Your Website
If you want to turn website traffic into revenue for your business, then you need to create content and offers your prospects want.

After conducting buyer research interviews to develop your buyer personas, you'll have a good idea of the type of content to create, matching each stage of the buyer's journey.

Then align the "Awareness" stage of the buyer's journey with your marketing efforts.

You must have content that provides unique value for your prospects. Content that they can only find on your website. A great way to do that is to focus on creating content following the STEPPS framework.

STEPPS is a framework used to craft content that people want to consume, hold on to and share. The STEPPS framework, developed by Dr. Jonah Berger, is in his New York Times and Wall Street Journal Bestseller Contagious: Why Things Catch On.
Here's a closer look at the STEPPS Framework:
1. Social Currency
People care about how they look to others. They want to seem smart, cool, and in the know. So be sure to find the inner-remarkability (e.g., Will it Blend?) and make people feel like insiders.
2. Triggers
Top-of-mind means tip-of-tongue. So consider the context. Grow your habitat so that people get triggered to think about your product or idea. Rebecca Black's 'Friday' music video is an excellent example of this.
3. Emotion
When we care, we share. Emotional content often goes viral, so focus on feelings rather than function. And kindle the fire using high arousal emotions.
4. Public
Built to show, made to grow. The more public something is, the more likely people will imitate it. Design products and initiatives that advertise themselves. (e.g., red bottom shoes) Create some visible behavioral residue.
5. Practical Value
News you can use. Useful things get shared. So highlight incredible value and expertise so that people can pass it on.
6. Stories
Information travels under what seems like idle chatter. Stories are vessels, so build a Trojan Horse. Create a narrative or story that people want to tell which carries your idea along for the ride.
Try to include two or more of the STEPPS share triggers when crafting your content to make it contagious!
The STEPPS framework gets applied to all phases of inbound marketing. But, it's critical in the convert phase.
Why does this matter?
Inbound marketing has become used as a primary marketing strategy. Consumers are growing aware of tactics used to capture email addresses.
In the same way, consumers have learned to block out traditional marketing efforts. The same threat applies to using inbound lead conversion tactics.
In the past, a common tactic was to create "offers." Then "gate" those offers behind a "conversion form" hosted on a landing page. This approach requires visitors to provide their email addresses to get access to the offer.
This tactic worked well for years for generating awareness stage leads. But, new technologies like "disposable email accounts," which provide 10-minute access. Have disrupted the effectiveness of this tactic.
In 2021, gating content is no longer as useful as it once was. Many inbound marketers have moved to un-gating their content. Causing them to win the majority of the traffic and business.
Your content must be better than ever. You must provide real value that meets your buyers exactly where they are in the buying journey.
Your content needs to be impressive. It must be valuable enough to the visitor that they will want to immerse themselves in it. If they do, they will come back to your website to read and reference it on a regular basis.
Prospects will be likely to join your community by subscribing to your email updates if they love your content.
Additionally, they may also provide their email to get a PDF copy of your content emailed to them. (Like the option you saw at the beginning of this article.)
Here's the deal:
You can still have offers that visitors need to fill out a form to get access to the information. It only changes the types of offers that get gated and the reason for gating them.
Here's a simple rule to follow:
If you don't need a person's contact information to provide access to what they are looking for, then don't ask for it.
Here are some great reasons to ask for your visitor's email address:
To send a PDF copy of the article or report emailed to them. As a bonus include a few extra tips not included in the post to make the offer more valuable:
Provide access to tools (free trials, spreadsheets, checklists, etc.)
Register them for an upcoming webinar
Provide an Assessment or Consultation
Send product samples
Once a site visitor decides to take advantage of an offer of value, they "convert" on a landing page or light-box. They do this by providing their contact information in exchange for the offer.
With this approach, you should also leverage the power of remarketing. Done by adding tracking pixels on your website.
Remarketing allows you to continue to connect with visitors to your website. These are visitors who may not have made an immediate purchase or inquiry.
It allows you to position targeted ads in front of a defined audience. These are visitors that have visited your website in the past - as they browse elsewhere on the internet." https://www.adhesion.co.nz/blog/google-remarketing-how-it-works/
Don't just focus on generating "leads". Instead, focus on generating a "subscriber" base too.
Subscribers have interest in staying up-to-date with your content. But, in most cases, becoming a subscriber doesn't mean they are ready to buy from you.
This means subscribers should not be considered as leads. And, you shouldn't expect every subscriber to become a lead. There could be many reasons why a subscriber may not be a good fit to buy your products or services.
The value of subscribers often gets overlooked. But, subscribers are essential to the success of your marketing efforts. They not only consume your content, but they are fans that are likely to share your content with others.
With that said, you should consider what life is like for your subscribers. Making sure there is real value in being part of your community as a subscriber.
Then you can provide opportunities to subscribers that are a persona fit, allowing them to become leads by engaging with your content. Aligning your offers with the awareness and consideration stages of the buying journey.
Include calls-to-action throughout your website to bring attention to your offers. Having calls-to-action encourages lead conversion.
You should also include a dedicated call-tracking phone number throughout your website. For example, we use the CallRail call tracking technology to capture leads and record calls from our website.
Aside from basic content offers, which include newsletter subscriptions and PDF versions of in-depth articles. You'll want to host buying stage offers on dedicated landing pages.
Landing pages are distinct from your main website. They have a single focused objective and design. Landing pages should have the site's global navigation removed. Limiting the options available to visitors of that page, guiding them to the intended conversion goal.
Your landing pages need to get optimized for continuous improvement. Done through A/B and user testing using the Growth Driven Design Methodology.
The lead nurturing process begins once a contact has converted into a lead. This process is essential to closing sales with inbound marketing.
---
Lead Generation Resources

Chapter 7
Promote Your Content and Engage With Prospects
Social Media is no longer just a "fun" place to hang out. It's a communication channel used by people of all ages and demographics.
On August 27, 2015, 1 billion people used Facebook on the same day. 1 in 7 people on earth was all on the same website in a 24 hour period. https://www.facebook.com/zuck/posts/10102329188394581
In September of 2017 there 1.37 billion average active users every day on Facebook.
When it comes to social media, Facebook is the new internet. Its broad adoption means that a good part, if not all, of your prospects and customers are using the network.
This means Facebook marketing should most likely be part of your social strategy.
You should also identify which other social networks your targeted audience uses. Other social media networks to consider include LinkedIn, Twitter, and YouTube.
The most important aspect of social media is that it's social. Meaning you shouldn't use it to broadcast impersonal promotional marketing messages.
Instead, focus on having real conversations with real people. Be relevant, helpful, and friendly.
With this in mind, you should share your content. But, you need to share it with the intent of adding value to the conversation by being helpful.
Social media marketing can be sophisticated. Different strategies apply to each network.
Attracting your targeted audience and engaging them is the first step. But, the next step, lead conversion is critical to your success.
Your next customer is out there looking for information and help. Creating a conversion strategy for your business is essential.
There's a lot that can be done using social media platforms, to the point where it can be overwhelming when trying to figure out where to start and what to do.
The following resources will teach you how often you should post to social platforms. Resources to make your posts better. And, how to engage with your audience.
---
Social Media Marketing Resources

Chapter 8
Build Meaningful Relationships with Lifecycle Marketing
Determine if your new contact is a fit based on your buyer persona after a contact becomes a lead.
"How do I do that", you may be asking?
Include a qualification question(s) on your conversion form. The question aligns with the buying stage of the offer. This information will give you the insight you need to determine persona fit.
Here are a few example qualification questions that we have used, and an idea of the types of questions you could ask:
What is your biggest marketing challenge (Awareness Stage)

Getting traffic to my website

Getting leads from my site

Closing sales leads from my website

None - my marketing and sales are great

Which best describes you? (Awareness Stage)
Business Owner

Marketing Professional

Sales Professional

HR Professional

Other - leads to a drop-down with a blank text field for entry

How much will you invest annually in marketing your business (Consideration Stage)
Less than 10K

10K to 25K

25K to 50K

50K to 100K

Over 100K

Based on how the contact answers your questions you can determine fit. If the contact is a fit, you have generated a new lead!
Some of the example questions may not be appropriate to ask the first time a visitor fills out a form.
The first question, "What is your biggest marketing challenge." This question may be an appropriate question for a first-time conversion. How they answer the question will determine how you qualify your new lead.
In most cases, you won't be able to disqualify leads with one question. You'll want to continue to nurture your new lead through the buying journey. Do this by providing more offers and opportunities. Capturing more intelligence about your lead to better qualify them.
Below is a diagram from HubSpot. It provides an outline of the buyer's journey. It outlines offers to use at each stage of the buying journey.
A persona fit lead that has converted in the "Awareness" stage of the buying journey is a Marketing Qualified Lead. (MQL)
A lead with the lifecycle stage of (MQL), means they are a good fit for further education. In this stage, you'll want to focus on the solutions that are available to them.
Stay engaged with your (MQL). Further, educate them on how to fulfill their needs or overcome their challenges. Highlighting how the solution(s) you provide can help them.
When an MQL has indicated that your solution may be an excellent fit for them, they become a Sales Qualified Lead (SQL).
A lead in the lifecycle stage of (SQL) means they've qualified to make a purchasing decision. In most situations, a member of your Sales team will be reaching out to them to close the sale.
Inbound leads are more informed and educated on the solutions that are available to them. They understand the benefits of your solution. For this reason, you'll want to manage Inbound leads differently.
This process is called the Inbound Sales Methodology.
Inbound Sales focus on the personal needs of the buyer, rather than the seller. It requires an understanding of the buyer's plans, goals, and challenges.
Inbound salespeople use this information to start meaningful conversations and make offers aligned with where the buyer is at in the buying process.
Below is a lifecycle stage flowchart. It shows how leads progress through the lifecycle stages within the buying journey.
While the lead nurturing and the qualification process may seem simple, it's rarely linear. You'll find that some of your prospects will qualify faster than others. Some may engage in content and offers related to many stages at once.
Determining where a lead should fit within a lifecycle stage can be somewhat complicated. To overcome this challenge, you can use lead scoring. Lead scoring measures lead interactions both on and off of your website. This data determines the leads appropriate lifecycle stage.
Additionally, make sure you're engaging your prospects on a regular basis. You need to stay in front and top of mind with them while they are on the buying journey. If you don't, there's a good chance that they will forget about you and you'll likely lose them.
Trying to manage this process on your own is not recommended for long-term growth. Instead, use marketing automation to handle these tasks for you.
What is marketing automation?
Marketing automation is a software platform or technology. It's designed to help organizations with their marketing efforts. It automates tasks such as email, social media, and other website actions.
Marketing automation should be set up to nurture prospects. Using helpful "value-based" email messages, social media messages, and remarketing offers.
Your promoters won't just materialize out of thin air: they start off as strangers, visitors, contacts, and customers.
The following resources will teach you the basics of lifecycle marketing. Which is essential to transforming strangers into promoters of your brand.
---
Lifecycle Stage Resources

Chapter 9
Speak to Your Visitors, Leads, and Customers with Personalization
What's the problem with most websites? It's that they provide the same experience page after page to all visitors.
Instead, an Inbound Marketing website uses available data to deliver a personalized experience. The data gets collected through visitors' interactions with your site.
Provide a more engaging experience with personalized calls-to-action and web page content. Personalizing based on how they are engaging with the content as well as their interests and needs. This type of engagement is known as "Contextual Marketing."
Contextual Marketing takes into account the users' needs, habits, and goals. It creates a personalized website experience. Providing an optimal user experience, and increasing conversion rates by 20% on average. (source)
Providing the right content to the right person, at the right time.

In fact, 73% of consumers prefer a personalized online shopping experience. (Source)
Here's an example of how Spotify uses contextual marketing:
When not logged into Spotify:

When logged in as a Spotify free user:

When logged in as a paid account customer:
Contextual marketing improves the experience in all phases of the buying journey and after becoming a customer.
Delighting Customers.
One of the reasons Inbound Marketing is so compelling is that doesn't end with closing sales. Instead, it continues throughout the entire customer's experience.
Why is that important?
Because it's 6 to 7 times more expensive to acquire a new customer than it is to keep a current one. (Source)

Consumers trust word-of-mouth (WOM) more than any other medium.
According to McKinsey, WOM creates advocacy, which is 50x more likely to trigger a sale.
Meaning, you need to be great at educating your prospects and customers. You also need to provide excellent products, services, and support. Your goal should be to turn your customers into loyal fans and promoters. Making them advocates for your brand!
Doing so requires that you consider what life looks like in the eyes of your customers. Then optimizing and improving the customer experience.
Contextual Marketing is a great way to improve the customer experience. After a prospect becomes a customer, the way you communicate with them needs to change.
You can use marketing automation to provide a personalized customer experience. Helping them to get the most out of being a customer.
Delivering a personalized experience provides an excellent opportunity to cross-sell and up-sell more products or services.
As you learn more about your leads over time, you can better personalize your messages to their specific needs. Personalization may start with email, but it certainly doesn't end there. Here are some fantastic resources on how you can use personalization throughout the buyer's journey.
---
Personalization Resources

Chapter 10
Save Time and Energy by Doing Marketing Automation Correctly
Here's the deal.
It's impossible for your sales team to chase every single lead, and as a marketer, it's not possible to manually nurture every relationship.
This means you can very quickly waste your marketing budget if you do not have an active lead management and prospect nurturing system.
What's the solution?
Marketing automation.
Marketing automation allows you to leverage software technology to provide a fluid user experience as they engage with your website and brand throughout the web.
Marketing automation provides an interactive experience with multiple touchpoints along the way.
These touchpoints include multiple marketing channels including email marketing, social media marketing, smart content, and SMS text messaging.
In addition to these touchpoints, a good marketing automation system is connected to a contact database that records all interactions a contact has with your brand online.
These systems can automate interactions based on user activity or lack of user activity in specific channels.
In 2021 email marketing still plays an essential role in an effective inbound marketing strategy. The most significant change with email today is that it has to be mobile-optimized to be effective.
According to HubSpot, 81% of smartphone users say email is the MOST used smartphone feature.
With that said, you don't want to bombard your prospects and customers with emails. Instead, you need to provide touchpoints when it makes sense, supporting them, and being helpful.
Marketing automation is great for providing the following benefits:
- Offering light-weight support to your customers
- Respond to inquiries quickly and efficiently
- Stay in communication in-between phone calls
- Provide access to additional products and services
Here are a few resources to help you understand marketing automation, prove its ROI, and the mistakes you'll want to avoid.
---
Marketing Automation Resources

Chapter 11
The Best Tools to Help You Take Your Inbound Marketing to the Next Level
According to a study conducted by Chief Marketing Technologist Scott Brinker:
In 2011, there were a reported 150 marketing software technology companies. Six years later in 2017, there are now over 5,000 companies in the technology landscape.
Below is a list of popular options that are often used to help digital marketing and sales efforts:
(Some of which your organization may already be using.)
Content Management System (CMS)

+ Business Blogging: WordPress, Drupal, Joomla
Email Marketing:

MailChimp, Aweber, Get Response
Marketing Automation & Landing Pages:

Unbounce, ClickFunnels, Wishpond
Search Engine Optimization (SEO):

Moz, SEMRush, Ahrefs
Social Media Management, Automation & Monitoring:

Hootsuite, Quick Sprout, Seesmic
Customer Relationship Management (CRM):

Salesforce, Zoho, Nimble
Sales Enablement Software:

Salesforce, MarcomCentral, Trivie
Marketing & Sales Analytics:

Google Analytics, Heap, Salesforce
To name a few….
This growth in technology options can be overwhelming to sift through. It often leads companies to purchase a collection of marketing and sales technologies. Many times they don't work together as needed and can even overlap in functionality.
Using too many marketing and sales technologies often leads to inefficiencies.
Some of these inefficiencies include:
Continuous training staff across many platforms
Continuous logging in and out of many platforms, taking more time
Platform integrations are unavailable or don't function as needed
Contact interactions are difficult, if not impossible to see and measure
Analytics and reporting are often inaccessible, disconnected or skewed
You can overcome these challenges by using a software toolset that is an all-in-one solution. When it comes to inbound marketing, HubSpot is the recognized technology leader.
HubSpot offers a full stack of software. HubSpot software provides tools for marketing, sales, and customer success, with a completely free CRM at its core.
This includes:
CRM FREE

- Get deeper insights on every contact, lead, and customer
Marketing Hub

- Grow your traffic, and convert more visitors into customers
Sales Hub

- Skyrocket productivity, and close more deals with less work
Customer Hub

- Connect with your customers on their terms to help them succeed.
The HubSpot platform integrates the following:
Website hosting
Content management
Blogging
Search engine optimization
Email marketing and marketing automation
Social media promotion and engagement
Lead capture and conversion
Website and marketing analytics.
The benefits include:
One platform for your team to learn
One login to access all your information
Seamless integration everywhere
One central contact database that stores all interactions
Easy to access analytics and reports ready when you need them
Making it much easier to manage your inbound marketing and sales efforts in one spot.
These are some of the tools that you'll want to use to make using inbound marketing easier. While HubSpot does have a lot of inbound marketing tools under one roof, they don't have them all.
---
Inbound Marketing Tools
Become a Roofing Demand Insider